WASHINGTON Days after the November election, the progressive wing of the Democratic Party was ascendant. There was no greater sign of its rising stature than the momentum Rep. Keith Ellisonof Minnesota was enjoying in his race to chair the Democratic National Committee.
Ellison, co-chair of the Congressional Progressive Caucus and a supporter of Sen. Bernie Sanders (I-Vt.) during the 2016 presidential primary, was racking up endorsements not only from Sanders and Sen. Elizabeth Warren (D-Mass.), but establishment figures as well, including Senate Minority Leader Chuck Schumer (D-N.Y.) and Randi Weingarten, president of the American Federation of Teachers both of whom backed Hillary Clinton in the primary.
But in December, former Labor Secretary Tom Perez jumped into the DNC race. Now, Ellison and Perez are neck-and-neck, with the election days away. The DNCs 447 voting members will decide the partys next chair in Atlanta on Saturday.
That has some Ellison supporters worried that their chance to reshape the party is in danger of disappearing. In an attempt to head off Perez, some prominent Ellison supporters argue that failing to elect him would squander a major opportunity to energize the progressive grassroots and heal the wounds of the 2016 presidential primary.
Keith Ellison had incredible support from the quote-unquote establishment side of the party, the progressive side of the party, the grassroots and the elected officials. Nobody was clamoring for another entrance, and yet we got one foisted upon us, said Alex Lawson, executive director of Social Security Works, an organization fighting to expand Social Security benefits.
If Tom Perez were to win, the message that would send to the grassroots, to labor unions that endorsed Ellison before Tom Perez joined the race, [is] that their voices, their muscle, their enthusiasm and turnout doesnt matter, Lawson added.
Ellison backers acknowledge that the liberal protest movement that has taken shape since President Donald Trumps inauguration not the DNC race has become the focus of grassroots energy. A loss for Ellison now could limit the partys ability to tap into that enthusiasm, but it wouldnt stop the movement.
If Perez wins, were not gonna come out with pitchforks and say, No, no, no, said Murshed Zaheed, political director of Credo Action, an online progressive heavyweight that has experienced record growth since Trumps inauguration. But people are going to roll their eyes and just keeping doing what they do. Its going to keep the DNC what it is: an irrelevant, old, stale entity that hasnt been re-serviced since the Howard Dean days. (Zaheed noted that he spoke to HuffPost in his personal capacity, since Credo isnt endorsing in the race.)
If Ellison gets in and they dont take labor and the working class for granted, were liable to go back to the party. Chuck Jones, United Steelworkers
The role of DNC chair is primarily to raise funds, recruit candidates for office and represent the party to the media. But in the wake of major electoral defeats, the contest to fill the post tends to reflect struggles for power within the party.
By encouraging Ellisons candidacy in November, party leaders appeared to be affirming the post-election analysis of many bitter progressives: that Democrats failure to embrace economic populism and grassroots energy had hurt the party in turning out its base and appealing to white Rust Belt voters who voted for Barack Obama, but opted for Trump in 2016.
It also was an olive branch to Sanders supporters still reeling from a primary race they felt favored Clinton.
Then, in December, aides to then-President Obama, dissatisfied with Ellison, encouraged then-Labor Secretary Perez to run. His candidacy has since taken off with the blessing of top figures from the Obama White House. Obama himself praised Perez in comments widely interpreted as an endorsement. Former Vice President Joe Biden and former Attorney General Eric Holder threw their support behind Perez this month.
Perez is an unlikely target of progressive opposition, given his strong liberal credentials. He earned widespread praise from unions for turning the Department of Labor, once a minor federal agency, into a powerhouse advocate for workers rights. Prior to that, as head of the Department of Justice civil rights division, Perez led the Obama administrations historic investigations into police abuses.
Indeed, many progressives now backing Ellison would have loved to see Hillary Clinton pick Perez as her running mate, and still hope he will run for governor in 2018 in his home state of Maryland.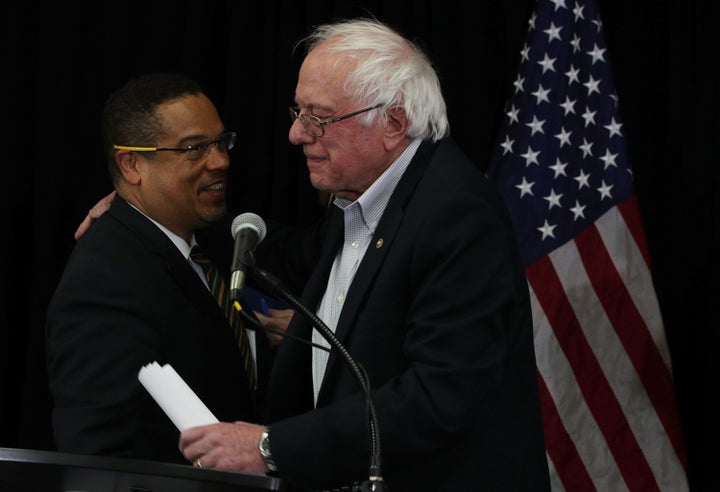 An Unpopular Trade Agreement
Perezs biggest policy difference with Ellison is that he supported the Trans-Pacific Partnership, the controversial 12-nation trade pact negotiated by Obama.
Unfortunately for Perez, TPP is divisive in Democratic circles. Labor unions, environmental organizations and other progressive groups reviled the now-defunct trade deal, and believe Obamas promotion of it contributed to Democrats losses in 2016.
Perez has claimed that he supported TPP out of loyalty to the Obama administration. For some Democrats, that explanation is thin. One of them is Chuck Jones, president of United Steelworkers Local 1999 in Indianapolis, which represents workers at the Carrier air-conditioning factory. (Trump famously insulted Jones for publicly disputingestimates of jobs saved by Trumps deal with Carrier.)
Jones voted for Clinton, but many of his union members went from backing Sanders to Trump, because they mistrusted Clintons record of support for international trade agreements.
Jones said he worries that Perez likewise lacks credibility on trade.
If Ellison gets in and they dont take labor and the working class for granted, were liable to go back to the party, Jones said. If they put somebody in like Perez that dont see it that way, like the TPP him being for it is a major issue youll start seeing people vote Republican or not voting at all.
Credos Zaheed, who was an aide to former Senate Democratic Leader Harry Reid (Nev.), argued that Perezs election would dismay the partys progressive base.
If the Democratic Party … puts one of the biggest promoters of TPP in charge of it, that would send a terrible message to the rank-and-file and the progressive base, Zaheed said.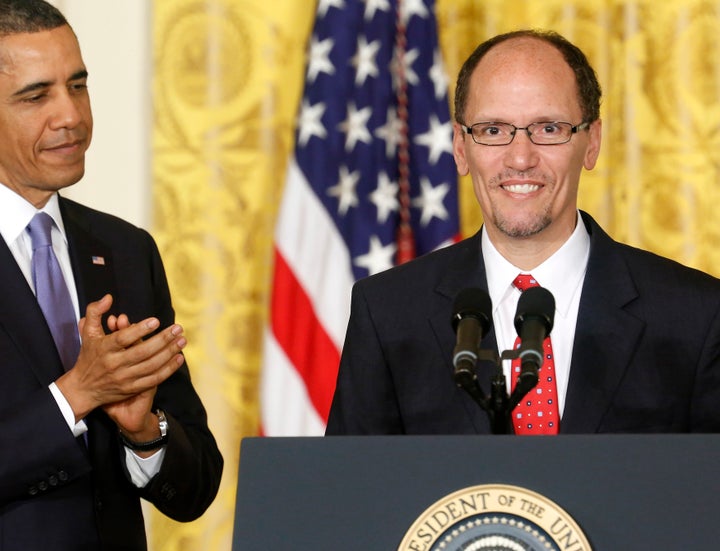 Ties To Clinton, Obama
The focus on Perezs support for TPP is as much about his proximity to Obama and to Clinton who backed TPP for years before coming out against it as a presidential candidate as it is about the candidate himself.
Progressives wary of the Clinton campaigns failures and its coziness with the partys donor class view these connections as burdens, not benefits.
But Perezs ties to Obama have proven even more radioactive.Ellison backers like Zaheed and Lawson resent that those in Obamas inner circle injected themselves into the DNC race by backing Perez. Obama advisers set up the separate fundraising and organizing arm Organizing for Action, which Zaheed and Lawson blame for undermining the DNC.
The total degradation and deterioration of the party they are responsible for it, Zaheed said of Obama and his advisers. For them to trot out one of their former hands is kind of unseemly, to be honest, and it is not helpful at this point.
Too Radical?
Some Perez supporters argue that Ellison would take the party too far to the left for swing voters that Democrats need to win back. Pennsylvania Democratic Party Chair Marcel Groen, for example, told HuffPost in January he wanted a moderate DNC chair. Groen endorsed Perez this month.
Lawson argued that on the bread-and-butter economic policy issues like opposing trade agreements, protecting Social Security and taking on pharmaceutical companies, Ellisons record is a strength among voters attracted to Trumps populism.
There is this elite Democratic-bubble mentality that thinks that you get these centrist-type voters by going with a half loaf that they want kind of Democratic, kind of Republican, Lawson said. That is a complete misreading and always has been a complete misreading.
Likewise, some of Ellisons critics have implied that his identity as a black Muslim will make it hard for the party to compete among the white working-class swing voters who backed Trump.
United Steelworkers local president Jones rejected that notion, noting that he and his members have had no problem voting for Rep. Andre Carson, an Indianapolis Democrat who also is African American and Muslim.
I dont think Democratic people would not vote for a Democrat because the head of the Democratic Party is black and Muslim, Jones added. Weve got some prejudice-ass people, but I think they would look beyond that.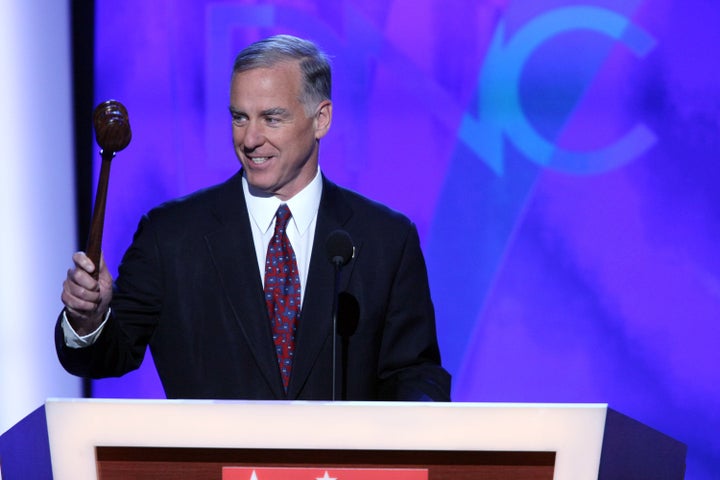 The Howard Dean Precedent
After Democrats got trounced in the 2004 elections, party officials welcomed an outsider. Former Vermont Gov. Howard Dean, the progressive favorite in the Democratic primary, won the DNC chairmanship in 2005, despite the opposition of Sen. Reid and House Minority Leader Nancy Pelosi (D-Calif.).
Deans tenure from 2005 to 2009, marked by the winning 50-state strategy, is now regarded as one of the most successful in the partys history. Nearlyevery candidate in this years DNC race has held Dean up as a model, promising to revive his focus on state and local party infrastructure.
But Zaheed and other progressives see Ellison as the only candidate providing the party an opportunity to do something similar.
Tim Kaine, Debbie Wasserman Schultz and now Tom Perez? Its going to be more of the same, Zaheed said. It is really the mindset that has made that whole infrastructure stale, old and irrelevant.
Bringing The Party Together
If neither Perez nor Ellison wins an outright majority in the first round of voting, there will be additional ballots until someone gets a majority. That could provide an opening to a dark-horse candidate like South Bend, Indiana, Mayor Pete Buttigieg, or South Carolina Democratic Party Chair Jaime Harrison.
Idaho Democratic Party executive director Sally Boynton Brown; media strategist Jehmu Greene; Milwaukee attorney Peter Peckarsky and Ohio activist Sam Ronan also are vying for the post.
Perez is clearly aware of the challenges he would face if he wins. And he pledges to court skeptical Sanders supporters.
Tom is committed to unifying the party and rebuilding it from the ground up. That is why he has met with Keith Ellison and other candidates over the last few weeks, because he understands that it will take all of us to unify the party no matter who wins, Perez campaign spokeswoman Xochitl Hinojosa said in a statement.
As we speak, Tom is traveling the country to talk to Democrats who both do and dont support him to hear and address directly how we can best unify the party, Hinojosa added. Hes also met with activists and millennials who tell him they are on the verge of leaving the party because it doesnt represent them.
This is just one battle in the long war. Jessica Pierce, All of Us
Jessica Pierce, an Ellison supporter and activist with All of Us, a progressive group that has threatened to back primary election opponents of Democratic incumbents who cooperate with Trump, said activists would be able to work with Perez.
People will still be prepared to push on Tom, Pierce said. And he should be prepared to hear that what people need from Democratic leadership are people who are actually willing to fight and stand up for us.
Were in this for the long term, she added. Were not interested in one tactic or one strategy, or one leader. This is just one battle in the long war.
And if Ellison wins, he would have fences to mend, too, according to Symone Sanders, a former press secretary for Sanders presidential campaign who now works for the Democratic super PAC Priorities USA, and has not endorsed a DNC candidate.
If Keith wins, he is going to have some real work to do to bring the party together, to cast his vision and to really get down to work, Sanders said. And the same thing for Tom Perez.
Sanders warned against viewing Ellisons election as a cure for bringing unaffiliated progressive activists into the Democratic fold.
They are not just gonna come because hes the chair, Sanders said. Because then, hes not some progressive outsider any more hes the chair of the Democratic National Committee. Hes now an insider.
Sign up for the HuffPost Must Reads newsletter. Each Sunday, we will bring you the best original reporting, long form writing and breaking news from The Huffington Post and around the web, plus behind-the-scenes looks at how its all made. Click here to sign up!
Read more: http://www.huffingtonpost.com/entry/keith-ellison-dnc_us_58acc9c5e4b03d80af7075b3?c2him2tqgwqht1emi&ncid=inblnkushpmg00000009