Sir Bernard Hogan-Howe is to retire after five years as the commissioner of the Metropolitan Police, the force has announced.
Sir Bernard, who was appointed to the role in September 2011, will remain in post until February to allow for his successor to be appointed.
During his time in charge, the 58 year old oversaw policing of the London riots and the Olympic Games.
Sir Bernard said he believed it was "the right time to move on".
He said he had "loved my time in the role" but it was "a good chance to make this change now" after the appointments of a new London mayor and home secretary.
"It also allows a decent amount of time to select my successor," he said.
Prime Minister Theresa May, who was home secretary for the majority of Sir Bernard's time as commissioner, praised his "total policing" approach saying he "has done an excellent job… at what has been a difficult time given the level of terrorist threat".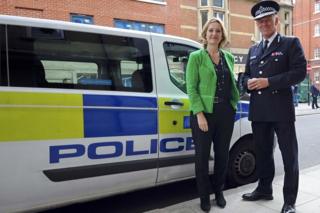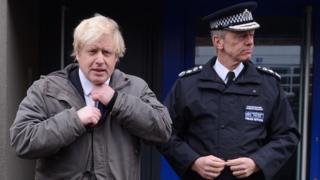 According to the Met, crime has fallen by around 18% during the time Sir Bernard has been in post.
He led the police response after the London riots in 2011 and the murder of soldier Lee Rigby in 2013.
However, he has also faced controversy including questions about the Met's handling of Operation Midland, its inquiry into allegations of historical abuse involving high profile public figures.
A 16-month investigation was launched after claims boys were sexually abused more than 30 years ago, but it closed in March without a single arrest.
---
Analysis: Danny Shaw, Home Affairs correspondent
The timing of Sir Bernard Hogan-Howe's retirement is odd.
He initially wanted a three-year extension to his five-year contract which expires this month. In January it was announced that it would be given a one-year extension, to September 2017.
There have been unconfirmed reports of tensions between Sir Bernard and London's new mayor, Sadiq Khan.
Last week, Sir Bernard and the Deputy Mayor for Policing, Sophie Linden, faced repeated questioning at City Hall as to whether the mayor had confidence in the commissioner.
It is possible that Sir Bernard was made aware that a new commissioner would be sought in September and Sir Bernard decided to go early, rather than be forced out.
There's also speculation his resignation is linked to a review into the Met's handling of Operation Midland, the inquiry into allegations of a paedophile ring at Westminster.
Sir Bernard has a meeting pencilled in with Sir Richard Henriques, who is leading the review, next Thursday. The Met will not say if it has received the report or been told of its findings yet.
The other possibility – hinted at in an interview on LBC [radio station] this morning – is that Sir Bernard has another job or opportunity that he wanted to take up sooner rather than later.
---
Sir Bernard took charge of the UK's biggest police force when his predecessor Sir Paul Stephenson quit amid criticism of the Met's role in the phone-hacking scandal.
As commissioner the Sheffield-born former traffic officer led nearly 50,000 staff including 32,000 officers.
He was awarded a knighthood in the 2013 New Year Honours list.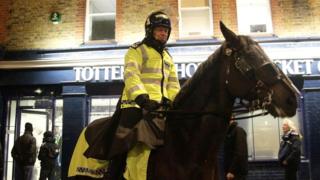 Sir Bernard had been expected to remain in the role until at least September next year after Mrs May recommended the Queen approve a 12-month extension to his contract which was due to expire this month.
Mayor of London Sadiq Khan thanked the commissioner "for his years of service" and denied reports he had helped oust the country's most senior police officer.
"It isn't to do with me, it's to do with Bernard deciding to retire," he said
Sir Bernard also said the pair have "an excellent relationship".
Home Secretary Amber Rudd, who will begin the search for Sir Bernard's successor with Mr Khan, called the commissioner a "determined crime fighter and an inspirational senior officer".
---
Key appointments

1979: Joins South Yorkshire Police aged 22
1997: Assistant Chief Constable, Merseyside Police
2001: Assistant Commissioner, Metropolitan Police
2004: Chief Constable of Merseyside
2009: HM Inspectorate of Constabulary
2011: Metropolitan Police Commissioner
---