If the shoe fits, wear it. And if it doesn't, U.S. track star English Gardner proved you can still win Olympic gold.
The 24-year-old sprinter told USA Track & Field that after Thursday night's time trial for the relay, which advanced them into the final, she returned to the apartment she shared with her parents in Rio and never touched her spike bag. During warm-ups Friday night, she left her bag in a tent. About 10 minutes before the race was to start, she prepared to practice hand-offs with Allyson Felix. She went to her bag to get her shoes: "I opened my bag, and it looked like stuff had been moved around. And there was only one spike in it."
"I'm normally not a person to forget my shoes. That's kind of like, you know, a soldier showing up to a war without his guns," said Gardner, who ran the third leg of Team USA's relay.
Felix overheard Garnder and was able to save the day by lending her a spare set of her spikes which were custom-made for Felix's narrow feet and roughly a half size larger than Gardner's typical 7.5 shoe.
"It was nothing an extra pair of socks couldn't fix," Gardner told USA Track & Field.
Taking to the track in her borrowed spikes, Gardner along with Felix, Tianna Bartoletta and Tori Bowie blazed to a gold medal-winning finish of 41.01 seconds.
Felix on Sunday told NBC that she always packs extra spikes.
"I'm kind of the momma of the group now," she said.
It wasn't the first time the veteran's quick thinking helped Team USA. The Americans were almost shut out of gold medal contention Thursday when Felix and Gardner dropped the baton during the handoff in the qualifying round.
Felix told Gardner to pick up the baton and keep running, even as the team finished in a dismal 15th place. But since the team completed the race, they were able to appeal their elimination on the grounds that a Brazilian runner in the next lane had bumped Felix, disrupting the handoff.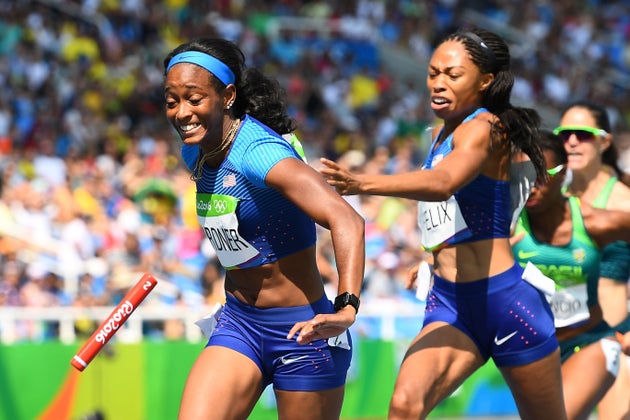 Following Friday's gold medal-winning race, Gardner thanked her teammate and tried to return the shoes, but Felix refused them.
"You keep those," Felix told Gardner, according to USA Track & Field. "You earned a gold medal in them."